Taith Gallery opening in Vienna
Opening exhibition: Orlando
The Story of a Transformation
My name is Andreas Hülber. I'm a designer of beautiful things, and a gallerist.
Welcome to TAITH contemporary!
Back in 1989, when I drew my first furniture designs, I wanted to show them to my friends and acquaintances – so I selected works by artist friends to fill the empty walls of the exhibition spaces. And that's how it all began!
My affinity with the visual arts has its roots in the artistic and creative skills of my family, in which furniture has been manufactured, and talents for the literary arts and drawing have been cultivated for several generations now. After training at Christies in London and working as an assistant at the gallery directly next to St. Stephen's Cathedral in Vienna, I too had the initial know-how necessary to design successful exhibitions, both in Vienna and internationally.
Thanks to my longstanding friendship with the Welsh artist and author David Kilvington, this minor matter grew to become a second primary focus. The two of us have been working together since 1990 to organise exhibitions on both sides of the English Channel, and having enormous fun while doing so. I can only assume our visitors are picking up on this enjoyment, as we have had, and continue to have, huge success with the works we have chosen by European artists, and continue to do so to this day.
Now, the new website of Galerie Taith Wien has been designed to offer you the opportunity to view and purchase these selected, high-quality works of contemporary art from Europe online as well as in person.
A typical vernissage at our gallery – pictured here, the 2018 Easter Exhibition
How do things look at TAITH?
Under normal circumstances, we are characterised by a brightly-coloured flair: up on the walls, natch, but also in our exhibition spaces, where vernissages and private views with the artists on show alternate with private dinners in small groups with collectors and talks on relevant themes.
Things are somewhat quieter for us at the moment – but you can still visit: we have just under 400 square metres of gallery space, and are in a position to maintain sufficient social distancing. And until the worst of the pandemic is over, you can also wander our premises virtually…
The Welsh artist couple Amelia and David A. Kilvington chose the title for our pop-up gallery. The name TAITH is derived from the Welsh word for 'journey, trip or tour' – a highly appropriate name for our cross-border enterprise.
Founder David A. Kilvington and his wife, Amelia
© Die Künstler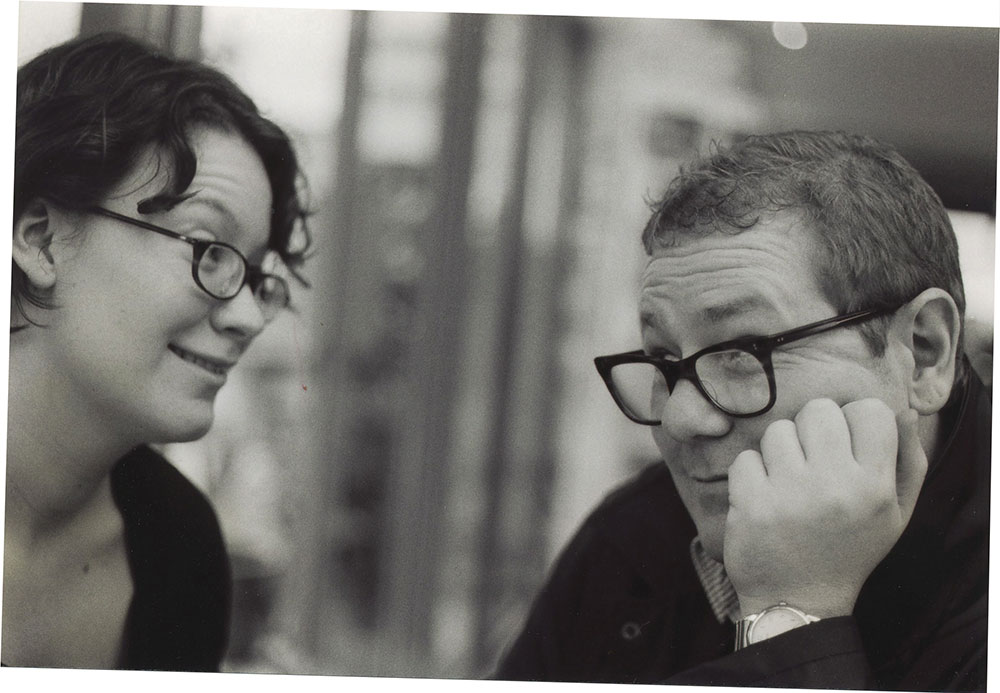 Taith is always on a journey, never in the same place for long
Taith is a development, not a finished concept
Taith would like to learn, not teach
We specialise in figurative painting and sculpture, graphics and photography. Portraits form a special focus of our work, as do paintings, graphics, photography and sculptures.
Exhibitions have been organised on both sides of the English Channel since 1989, in a collaboration between the Welsh artist David A. Kilvington and the Austrian designer Andreas Hülber. The first exhibitions, for which the pair created the interior design and furnishings, were held at the Dr. Stemberger Institute for Tropical Medicine; they would later appear at Vienna's Museumsquartier, the Haus Wittgenstein, the Garden Chapel of the Palais Liechtenstein, Vienna's Water Tower and a variety of other gallery spaces across the Austrian capital, as well as a number of galleries and private homes in Great Britain.
TAITH Contemporary was then founded as a pop-up gallery in Vienna in 2013, and can look back on exhibitions in the city's MQ district, the Haus Wittgenstein Wien, The Barn Suffolk, and the Viennese design studio orange moon. The current exhibition, which was featuring in the annual festival held in Laugharne in Wales, was cancelled due to the restrictions. (See our Coronapril Campaign for details)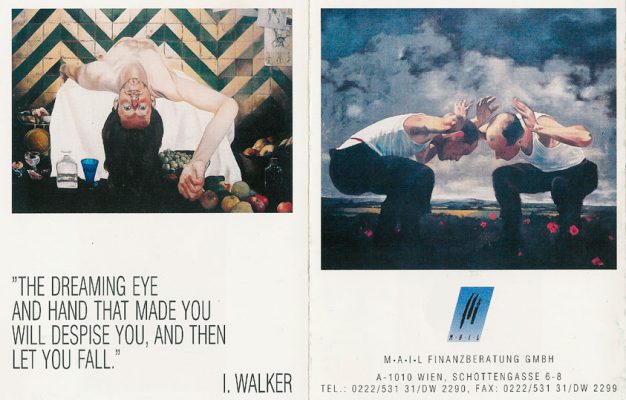 Ausstellungsfolder MAIL GmbH 1995 © design orange moon
1990: Raumgestaltung Institut Dr. Stemberger, Vienna
1992: MAIL/Creditanstalt, Vienna
1992: Galerie Utraque Iungo, Vienna
1992: Mall Galleries, London
1992: South Audley Street Gallery, London
1993: The Hyde Park Gallery, London
1993: Wasserturm, Vienna
1994: The Hyde Park Gallery, London
1994: Mall Galleries, London
1994: Connaught Brown Gallery, London
1995: Leonard Street Gallery, London
1995: Fountain Fine Art, Llandeilo, Wales
1995: Galerie Utraque Iungo, Vienna
1996: Slaughterhouse Gallery, London
1996: Albemarle Gallery, London
1996: Leonard Street Gallery, London
1996: Fountain Fine Art, Llandeilo, Wales
1996: Waterman Fine Art, London
1997: Galerie Utraque Iungo, Vienna
1997: Fountain Fine Art, Llandeilo, Wales
1997: Albemarle Gallery, London
1997: Durlstone Manor, London
1997: Waterman Fine Art, London
1998: Albemarle Gallery, London
1998: Galerie Utraque Iungo, Vienna
1998: Fountain Fine Art, Llandeilo, Wales
1999: Galerie Utraque Iungo, Vienna
1999: Imperium, Durlstone Manor, London
1999: Fountain Fine Art, Llandeilo, Wales
1999: New York Fair U.S.A
1999: Urbanscape: 21st century landfill, Mafuji Gallery, London
2000: Haus Wittgenstein, Vienna
2004: Fountain Fine Art, Llandeilo, Wales
2005: 'My Mistress' Eyes Are Nothing Like The Sun', Vienna
2005: Fountain Fine Art, Llandeilo, Wales
2006: Fountain Fine Art, Llandeilo, Wales
2009: The Rooms Gallery, Llandeilo, Wales
2010: Fountain Fine Art, Llandeilo, Wales
2013: Haus Wittgenstein, Vienna
2015: orange moon, MQ Vienna
2016: orange moon, MQ Vienna
2018: orange moon, Prinz Eugen-Straße
2019: orange moon, Prinz Eugen-Straße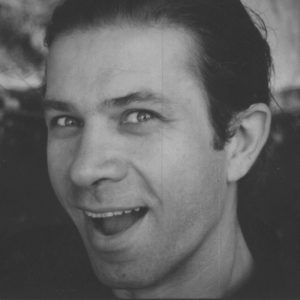 Founder Andreas Hülber, 1995
© Annunziata Schmidt-Chiari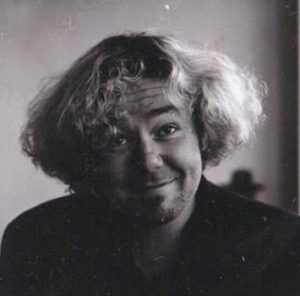 Founder David A. Kilvington, 1994
© David A. Kilvington